Pre-Engineered Safety Railing for Your Metal Roof
Protect your workers against the dangers of rooftop hazards with a fall protection railing that is pre-engineered to be fully compliant with OSHA regulations. Specifically engineered for both standing seam and corrugated roof panels, the KeeGuard metal roof railing eliminates the need for expensive and time-consuming design work. The KeeGuard railing system can be laid out and configured for your roof within days instead of weeks or months.
Whether you are looking for complete perimeter fall protection or protection for specific areas of your roof, we have a metal roof railing solution that will protect your employees from harm and your company from liability.
Standing Seam Roof Railing

Keeguard Standing Seam Metal Roof Railing attaches directly to the standing seam without penetrating the roof surface.   The railing connects to any type of standing steam using non-penetrating standing seam clamps. 

Corrugated Roof Railing

Topfix Corrugated Roof Railing is a roof railing solution for corrugated metal roofs.  Special baseplates distribute the forces on the roof and connect directly to the corrugated metal panels.
Why Use the KeeGuard Railing System on Your Metal Roof?
Railing is the Safest Form of Fall Protection - Why settle for using lifelines, anchor points, and lanyards that require expensive ongoing maintenance and training. Go up a level on the safety hierarchy and eliminate the fall hazard altogether.
Fully Compliant to OSHA and Industry Standards – Protect your workers with a system that has been tested to OSHA standards. 
Come into Compliance Quickly and Easily – Modular components allow the system to be installed quickly by contractors or maintenance professionals.  Specialized labor is not required.
Configured Specifically for Your Roof – Each railing is designed to fit your fall protection needs.  The modular components can easily accommodate ladder access and other roof top obstacles.
Globally Accepted - KeeGuard has been designed to meet global fall protection standards. Railing systems have been installed in virtually every major market across the globe.
Gallery of Metal Roof Railing Solutions
Getting a Quote is Quick and Painless!
Get started by giving us a few basic details about your project.
or call for more details: 1.866.527.2275
Adaptable for Use with Multiple Roof Types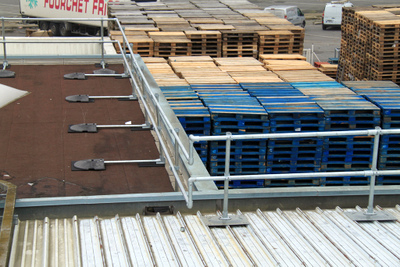 Do you need fall protection that will span both metal roofs and standard flat roofs? KeeGuard metal roof railing integrates directly with our standard flat roof railing system. 
KeeGuard's modular fittings allow you to provide perimeter protection between two different roof types.
Combine with our Walkway Solution for Metal Roofs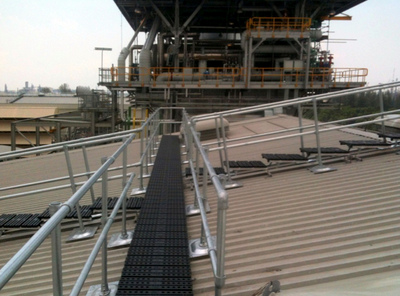 Creating a clear walking path is essential to creating a safe work environment.   KeeWalk is a unique walkway solution designed specifically for metal roofs.  It can be combined with metal roof railing to provide a complete safe access solution.