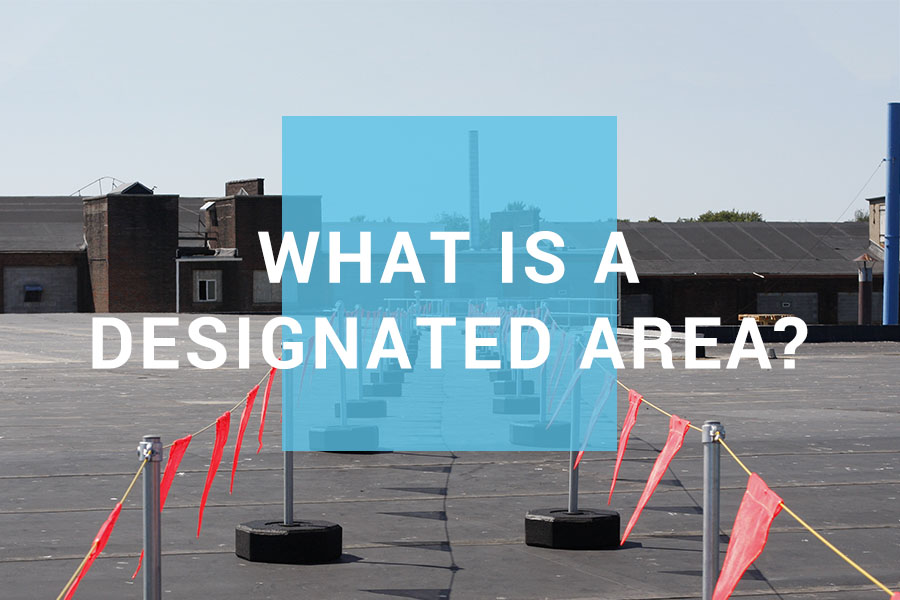 When it comes to fall protection, a common method OSHA employs is one in which a certain area is demarcated by some type of warning line, and when employees can work without more traditional means of fall protection. It can be called different things – a Controlled Access Zone or a Controlled Decking Zone, but the one that has most recently garnered attention with the release of the new Walking/Working Surfaces standard is a Designated Area.
A Designated Area is defined by OSHA as "A distinct portion of a walking-working surface delineated by a warning line in which employees may perform work without additional fall protection."
This sounds almost identical to what was used above to describe controlled zones, so what makes a Designated Area different?
The answer to that would be the same regardless of which zone we were discussing. What makes each of the zones unique is in which situations they can be used. So, just when does the new Walking/Working Surfaces standard call for a Designated Area? According to 29 CFR 1910.28(b)(13) a Designated Area can be used for work on low-slope roofs if your work is performed between 6' and 15' from the edge AND is both infrequent and temporary. A Designated Area may also be used at any time when employees are working greater than 15' from the edge of a low-slope roof (NOTE: if the work greater than 15' from the edge is both temporary and infrequent and a rule is in place prohibiting workers from going within 15' of the roof edge without fall protection, the employer has no duty to provide fall protection whatsoever, including a Designated Area).
This begs the question, just what is 'infrequent' and 'temporary'? It's easy to say that these concepts are what they sound like, but that's not a definition that would hold up in a court of law. Luckily OSHA has been approached with this question and has provided more detail for us.
How OSHA Defines Temporary
In the context of a Designated Area, temporary refers to tasks that usually takes less than 1-2 hours to complete. Examples given by OSHA were tasks like changing HVAC filters on rooftop units or re-caulking around a skylight.
How OSHA Defines Infrequent
Infrequent was also defined in the context of a Designated Area and is possibly even more vague. Suffice to say that infrequent tasks cannot be tasks that a worker performs as part of his or her daily job. Infrequent tasks are ones that get performed at intervals like once per month or once per year. Infrequent can also refer to tasks that are performed as needed, like when a piece of equipment breaks down. If you intend to use a Designated Area, be sure your tasks fall into these categories.
While this is a quick overview, one similarity between a Designated Area and the rest of the controlled zones is that, with all of them, you often need a boundary to demarcate your zone, and that boundary is what OSHA calls a control line. It may be tempting to run out and grab a string of plastic flags to set up your line, but OSHA does have specific requirements for things like sag, load, and visibility. Your best bet is to look into manufactured warning line systems that come with weighted stanchions (or permanent mounts if you so desire), carrying carts, or even stamped steel flags. Set up properly, these systems should help you achieve compliance.
Designated areas can be useful tools that help alleviate some of the burden of more stringent fall protection requirements in situations where the risk of falls is minimal. However, they are only effective when they are set up correctly and utilized properly. Your employees also need to fully understand the Designated Area and what it means. In order to ensure that they do, you need to make sure each and every employee that will need to work in or around a Designated Area is properly trained in a language they understand. After all, making sure these employees are safe is the entire purpose.