Self-Closing Industrial Safety Gates
Kee Gate is a solid, industrial safety gate built to comply with OSHA requirements. The self-closing, spring-loaded mechanism creates a safe working environment by automatically closing behind the person who moves through the gate.
Universal Size
The Kee Gate's universal size allows you to easily retrofit the gate to any existing structure and elminates the need to get precise measurements before purchasing.
Cut on Site
With a few simple tools, the Kee Gate can be cut on site to fit any size opening.
Human Proof
A spring hinge causes the gate to close automatically. Industrial safety gates are typically used to protect areas such as ladder access points and roof hatches.
Already know what size you need?
We have a full line of standard size gates available in our online store.
Explore the Kee Gate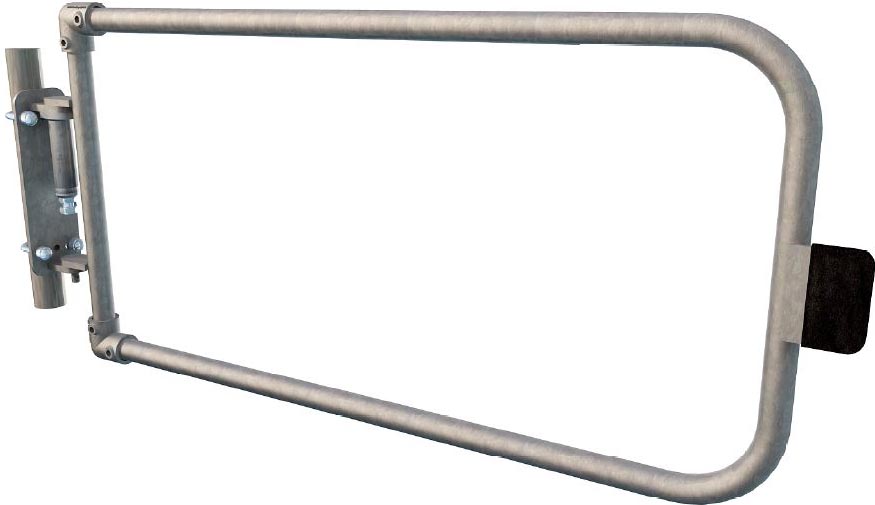 The Double Gate
The double gate is designed for an opening of more than 3 feet. The unique positive stopping mechanism ensures that the gate only swings in one direction. This helps ensure that the gate securely closes after the user has walked through, eliminating any potential fall hazards.
Compliant, Solid Construction
Kee Gate is constructed from solid, corrosion resistant materials. A gate that doesn't last, isn't going to protect anyone. Kee Gate has been constructed and tested to comply with OSHA guardrail standards.
Universal Attachment
The universal connection point is designed to easily attach to most rounded or rectangular uprights. These industrial safety gates are also designed to work with KeeGuard roof top railing and KeeHatch roof hatch railing.
Need Configuration Assistance?
Getting a Quote is Quick and Painless!
Get started by giving us a few basic details about your project.
or call for more details: 1.866.527.2275
Close Up on Industrial Safety Gates
It's called an industrial safety gate because it's built to hold up under severe industrial conditions.
Get Technical
Click on the link below to download a technical drawing of a standard sized industrial safety gate.
How To Install an Industrial Safety Gate
Get the Instructions
Click on the link below to download a full set of instructions for the Kee Gate industrial safety gate.
Designed to Work with KeeGuard and KeeHatch
KeeGuard is a non-penetrating rooftop railing system that provides roof edge fall protection.
KeeHatch is a easy-to-install railing system that provides vital fall protection around roof hatches.
Need a Mezzanine Safety Gate?
Access goods on your mezzanine safely and easily with a mezzanine safefty gate. Customized to fit your opening, this mezzanine gate provides total protection to people managing goods on and off the mezzanine.